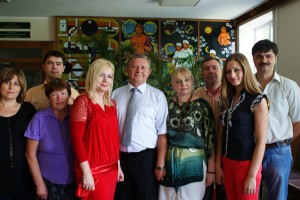 The current Department of Pharmacology and Clinical Pharmacy was founded in 1992 by order of the Ministry of Health of the Republic of Moldova No. 26.02.92. 22 L. p.2 "For the establishment of the Department of Pharmacology inside SMPhU" Nicolae Testemiţanu "and the order of University Rector of May 11, 1992 no. PS 225 "On the division of the Department of Pharmacology and Clinical Pharmacology in two independent departments".
Department of Pharmacology and Clinical Pharmacology (Head of Department – professor V.Ghicavîi) – for the faculties of General Medicine I, II, III and pediatrics.
Department of Pharmacology for Stomatological faculty, Pharmacy and Preventive Medicine faculties (Head of Department –   professor S. Nicolai) – as a part of the Pharmacy faculty.
Late Sava Nicolai,  professor of Pharmacology Department was its head for 13 years. He was the author of 150 scientific works, including 4 monographs, a number of guide. He prepared 12 doctors in medicine and pharmacy. He was engaged in scientific activity and had a number of disciples, whose theses were written in an impressively short time. He grew up, trained, educated and prepared students, residents, disciples for life. He possessed extraordinary qualities and believed in truth and goodness. On 15 April 2005, his life ended abruptly, but  he will always remain alive in our hearts.
Since January 3, 2005 by order of the Rector V. Gonciar, PhD, professor, author of over 175 publications, including 2 monographs, 8 textbooks, 3 lectures, holder of 10 patents and 5 innovations became the Head of Pharmacology Department. In 2007, by decision of the Senate of SMPhU "Nicolae Testemiţanu", the Pharmacology Department was renamed in Pharmacology and Clinical Pharmacy.  Employees of the department published 10 books, 8 guides and approximately 10-12 license theses per year. The    Department organized continuing postgraduate courses for pharmacists and consults practitioners in clinical pharmacy issues.